Zadnja odprava

Več novic iz odprave...
Zadnje v galeriji

Zadnja smer



News
Qionglai Mountains, Sechuan, China 2003
Tanja and Andrej Grmovšek visited Qionglai Mountains in Chinas Sechuan and did FA of two untruden mountains

Our small climbing expedition, Tanja and Andrej Grmovsek from Slovenia, planed to visit Qionglai Mountains in Chinas Sechuan in spring of 2003, but our plan failed due to SARS. So we changed our plans and visited China in fall. In second half of September we came to Rilong, small tourist town on the foot of Sigunang Shan part of Qionglai Mountains. Our goal was to free climb some large granite walls, which supposed to be in this from climbers almost untouched area. We didnt have much information about mountains here, we were only inspired from Tom Nakamuras article and photos of some walls, published in AAJ. But we were also a bit scared because of bad weather reports and mostly unsuccessful climbing of few rock climbers who visited those mountains. Because of that we planed on very light and fast alpine ascents. From Rilong we took a tourist bus on paved road in the Shuangqiao Gou valley. The valley is 35km long, with many very interesting granite walls, up to 1000m high and almost all are unclimbed. The access was very simple. We just got of the bus, made a base camp, and then hiked for 4 to 7 hours to the base of the walls. We had good weather, which was very changeable, but most days without rain or snow. First we choose easier and lower wall for acclimatization. On 25.9.2003, in one day push we climbed route Dont fly away (V, VIII/VIII+ obl., 450m, 11 pitches) in south face of nameless peak, which we named Tan Shan and is probably 4943m high. We used only friends for protection. Therefore climbing was sometimes really serious, especially in hardest pitch with 15 m run out in smooth slab. This was first ascent of this peak. After some days of rest we went four our next goal. Snow in west face of Putala Shan, 5428m, almost dried out in last days and that was our luck. We took only climbing shoes, some clothes, bivy sack and small bottle of water with us into this wall. We climbed as fast as possible and reached north summit of this broad mountain in the evening. We decided for frizzing bivy on summit and rappelled the wall on the next day. We used only friends and nuts for protection and belays, but left our rappel in the wall. The route was about 1300m long, but the wall is about 800m high. We called it Dalai Lama, VI, VIII-, 22 pitches. We think this was also the first ascent of this mountain. After that the weather brought snow to the valley and we decided to finish our climbing there. But there are still many interesting walls to climb and probably we will return here in next years.
For more photos from the area you can check under GALERIJA http://kitajska.odprava.net/galerija.php?head=5 . There you will also find pictures with our routes in it and topos of the routes.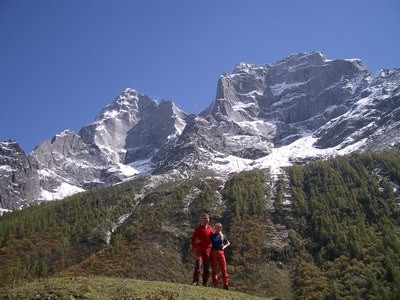 just
G

rm

O

2011-02-09
Triglav, impressive winter ascent
Luka Krajnc and Andrej Grmovsek carried out hard winter ascent up the North Face of Triglav (2864m) Sanjski Joža (VI/V,M7+, 1050m).
---

2010-09-20
How was it in Canada? WILD!
On the expedition to the

Cirque of the Unclimbables Tanja and Andrej were fascinated by the sheer wilderness of Canadian North. They went trough real wilderness adventure with lot of good climbing, to much bush hiking and not enough scenic paddling!
---

2010-07-20
Via Sandro Pertini and Via Cattedrale
Luka Krajnc and Andrej Grmovšek finsihed short visit to the Dolomites with the first free ascent of Via Sandro Pertini, Cima Grande (7c, 250m) and free ascent of the magnificent Via Cattedrale (8a+ or 8a, 650m, 850m long), Marmolada.
---

2010-01-26
Perfect winter climbing conditions in Slovenian Alps
This winter brings almost unreal conditions to most of the Slovenian alpine walls and an increasing number of Slovenian alpinists found real climbing treasures in the hills!
---

2009-10-01
Are we afraid of sharks?
Famous and still unclimbed Meru Sharks Fin had turned away jet another climbing team. Beginners lessons for "old experts?" Silvo, Marko and Andrej.
---

2009-06-18
When everything goes well!
Andrej fight to the end ... and at the end did a one-day free ascent of route Donnafugata, 8a, 750m, Torre Trieste.
---

2009-05-29
Perfect Morocco
The expedition to Morocco was really great. We were enraptured with its diversity and hospitability of the local people. And especially with unbelievably amounts of reddish walls, one of the best limestone climbing cliffs we know

!
---

2009-03-31
NO winter SIESTA
Amazing busy winter season for Andrej and Marko with some really good and well done routes around Alps like Illuminati and No Siesta! Great climbers on great routes and they don't have any siesta!

---

2008-09-07
Climbing in South Greenland
Really great climbing expedition, on which we found excelent rock, great weather, many long routes, good friends, beautiful nature and perfect timing.

---

2008-02-08
Free Mix Lines above Chamonix
Good winter season above Chamonix during which Andrej and Marko were looking for good and chalenging mix routes.

---
Show all news