2011-02-09 Triglav, impressive winter ascent

Luka Krajnc and Andrej Grmovsek carried out hard winter ascent up the North Face of Triglav (2864m) Sanjski Joža (VI/V,M7+, 1050m).
more

2010-09-20 How was it in Canada? WILD!

On the expedition to the

Cirque of the Unclimbables Tanja and Andrej were fascinated by the sheer wilderness of Canadian North. They went trough real wilderness adventure with lot of good climbing, to much bush hiking and not enough scenic paddling!
more

2010-07-20 Via Sandro Pertini and Via Cattedrale

Luka Krajnc and Andrej Grmovšek finsihed short visit to the Dolomites with the first free ascent of Via Sandro Pertini, Cima Grande (7c, 250m) and free ascent of the magnificent Via Cattedrale (8a+ or 8a, 650m, 850m long), Marmolada.
more

2010-01-26 Perfect winter climbing conditions in Slovenian Alps

This winter brings almost unreal conditions to most of the Slovenian alpine walls and an increasing number of Slovenian alpinists found real climbing treasures in the hills!
more

2009-10-01 Are we afraid of sharks?

Famous and still unclimbed Meru Sharks Fin had turned away jet another climbing team. Beginners lessons for "old experts?" Silvo, Marko and Andrej.
more

2009-06-18 When everything goes well!

Andrej fight to the end ... and at the end did a one-day free ascent of route Donnafugata, 8a, 750m, Torre Trieste.
more

2009-05-29 Perfect Morocco

The expedition to Morocco was really great. We were enraptured with its diversity and hospitability of the local people. And especially with unbelievably amounts of reddish walls, one of the best limestone climbing cliffs we know

!
more

2009-03-31 NO winter SIESTA

Amazing busy winter season for Andrej and Marko with some really good and well done routes around Alps like Illuminati and No Siesta! Great climbers on great routes and they don't have any siesta!

more

2008-09-07 Climbing in South Greenland

Really great climbing expedition, on which we found excelent rock, great weather, many long routes, good friends, beautiful nature and perfect timing.

more

2008-02-08 Free Mix Lines above Chamonix

Good winter season above Chamonix during which Andrej and Marko were looking for good and chalenging mix routes.

more

2007-10-16 New routes in Miyar Nala

In the end of summer 2007 Tanja and Andrej Grmovšek traveled to Miyar Nala, Himachal Pradhes, Indian Himalaya. They climbed four new routes and stood on two 5000+m virgin peaks.
more

2007-08-21 Never give up -new route in Dolomites
Modern old style route in Tofana di Rozes, Dolomites.

more

2007-03-26 Gabarrou – Silvy- FREE!

In March 2007 Marko Lukić and Andrej Grmovšek climbed beautiful and also quite hard mix climb on north wall of Aiguilles Sans Nom (3982m), Mont Blanc Massif.
more

2006-09-24 Slovenian TranGO towers 2006

***Women climbing team***
Tina Di Batista, Tanja Grmovšek, Aleksandra Voglar*

They climbed Nameless tower (6251m) as a first women party by the route Eternal flame in alpine style!
more

2006-09-22 Slovenian TranGO Towers 2006

***old Men climbing team***: Silvo Karo, Andrej Grmovšek climbed Eternal flame in 24 hours push and made three others FA
more

2005-08-07 Success in hardest free route on Cima Grande

After my successful free ascent of Couzy memorial route (8b or 8a+, 550m) on Cima Oveste last year I decided to try Camilotto memorila route in Cima Grande.
more

2005-02-22 Patagonia 2005

Tanja Grmovšek and Monika Kambič-Mali did a first all women ascent on Cerro Torre on 8th of February 2005. They also climbed Ag. de la 'S.
more

2005-01-23 Patagonia 2005

Andrej Grmovšek and Silvo Karo did sitting start for Cerro Torre for Cerro Torre, 2. ascent of Italian route (SE face) on Aig. Poincenot, Aig. Exupery and Aig. Rafael in three weeks
more

2004-09-03 Climbing fast, free and light in the Alps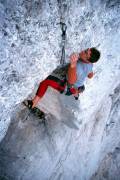 Slovenian climbing party Marko and Andrej had another AMAZING alpine summer in the year 2004.
more

2003-12-02 Free climbing in big walls all over the Alps in summer 2003

In the summer 2003 Marko Lukić and Andrej climbed a lot of very hard routes all over the Alps.
more

2003-10-25 Qionglai Mountains, Sechuan, China 2003

Tanja and Andrej Grmovšek visited Qionglai Mountains in Chinas Sechuan and did FA of two untruden mountains
more